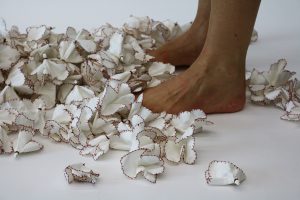 Dr Karike Ashworth is an award-winning multidisciplinary artist-researcher-teacher living and working in Meeanjin (Brisbane). Her experimental research practice consists of performance, time-based media, objects and installations. Her practice is informed by a feminist epistemological approach; in that she views the world through a woman's perspective—always; and uses her practice to build knowledge and understanding of how patriarchal structures like gendered expectations control and contain women.
Dr Ashworth's practice often oscillates between employing bemusing hyper-spectacle as a subversive strategy and using banal, typically 'unspectacular' materials. Her performative persona Brave Girl is an example of her use of hyper-spectacle in performance. She uses her body in this way because it helps her to, as she describes, "more clearly see my contradictions as a woman and a feminist navigating contemporary society". This is because, "the voice of the culture is in our bodies".
Dr Ashworth's objects-based practice typically has a domestic or what might be called private or intimate quality to it. Her processes in the studio usually feature aspects that come from her Anglo heritage as a woman in that there is a lot of dedicated, time-consuming, and intimate stitching into things. As she describes it, "I am usually drawn to materials and processes that are typically shunned, discarded, marginalised or usually uninteresting to people, or associated with intimate, domestic, or feminised places or things. They remind me of parts of ourselves and/or our culture that are not talked about or valued". The connection between the performance practice and the intimate object-based practice is their temporality; either in the subject matter of the work or in the making process. "My interest in time is phenomenological—in that it mimics or encapsulates feminine containment or discipline, and the time and space to be with it—to wrestle with it or to contemplate it". Dr Ashworth has a strong collaborative practice and is part of the art collective The KACA Projects and is a founding member of nosignifier.
Dr Ashworth graduated from the Queensland College of Art in 2013 with a Bachelor of Fine Arts where she was awarded the Godfrey River Medal for outstanding studio performance and was a finalist in the Graduate Art Show (GAS) at Griffith University Art Gallery. In 2014 she completed Honours in Visual Arts at the Queensland University of Technology (QUT) with First Class Honours and was a finalist in Excerpts: Visual Arts Showcase at The Block. Dr Ashworth received a full scholarship to complete her PhD in Visual Arts at QUT between 2016-2019 (this is when her 'Brave Girl' persona emerged). In 2022 she won the Queensland Regional Arts Textile Art Award, and First Prize in the Moreton Bay Region Art Prize. In 2021 she was awarded Highly Commended in the Sunshine Coast Art Prize; and in 2020 she won the AAANZ Research in Focus award for her PhD research.
Dr Ashworth's first solo exhibition Lamentation was shown at The Hold Artspace (Brisbane) in July 2014, and with the support of Arts Queensland, toured Queensland and NSW throughout 2015-2018. She has held further solo exhibitions titled Home of the Brave I (2016), Home of the Brave II (2017), #SoBrave: an exhibition of Brave Girls (2018), Dr Brave Girl and the extraordinary Hooping Loop (2019), Always soft, Always strong (2021), and most recently Brave Girl: The Warrior at The Condensery, Somerset (2022). Dr Ashworth has been a finalist in national prizes; and has featured in many group/collaborative exhibitions and projects.
Dr Ashworth is Vice President of Australian Museums and Galleries Association Queensland (AMaGAQ), and is a sessional academic at the Queensland University of Technology (Creative Industries) in Brisbane. In addition to her substantial visual arts training, Dr Ashworth holds a Master of Commerce Degree from the University of Queensland. She worked in the Financial Services industry for PricewaterhouseCoopers and Deutsche Bank for 10 years prior to pursuing a career in the Visual Arts.
Save
Save
Save
Save
Save
Save
Save
Save
Save
Save