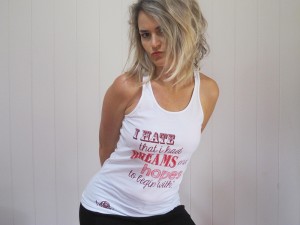 Dr Karike Ashworth is a multi-award-winning multidisciplinary artist-researcher-teacher living and working in Brisbane. Her experimental research practice consists of performance, time-based media, text, objects and installations. She works with the strategies of mutual implication, ambiguity and disconcerting humour (or bemusement)—specifically, what the application of these strategies in contemporary practice can reveal about power structures and/or societal order. Karike also has a strong collaborative practice and is part of the art collective The KACA Projects, and is a founding member of nosignifier.

Image: I hate that I had dreams and hopes to begin with (2016) (performance)
Karike graduated from the Queensland College of Art in 2013 with a Bachelor of Fine Arts where she was awarded the Godfrey River Medal for outstanding studio performance and was a finalist in the Graduate Art Show (GAS) at Griffith University Art Gallery. In 2014 she completed Honours in Visual Arts at the Queensland University of Technology (QUT) with First Class Honours and was a finalist in Excerpts: Visual Arts Showcase at The Block. Karike received a full scholarship to complete her PhD in Visual Arts at QUT between 2016-2019 (this is when her 'Brave Girl' persona emerged). In 2022 Karike won the Queensland Regional Arts Textile Art Award and First Prize in the Moreton Bay Region Art Prize. In 2021 she was awarded Highly Commended in the Sunshine Coast Art Prize; and in 2020 she won the AAANZ Research in Focus award for her PhD research.
Karike's first solo exhibition Lamentation was shown at The Hold Artspace (Brisbane) in July 2014, and with the support of Arts Queensland, toured Queensland and NSW throughout 2015-2018. Karike has held further solo exhibitions titled Home of the Brave I (2016), Home of the Brave II (2017), #SoBrave: an exhibition of Brave Girls (2018), Dr Brave Girl and the extraordinary Hooping Loop (2019), and most recently Always soft, Always strong (2021). Karike has been a finalist in national prizes; and has featured in many group/collaborative exhibitions and projects. These include The Annual, Boxcopy ARI (2016, 2017, 2018 and 2019), Alone Together, Boxcopy ARI (2015), The Proposal, Zammit Projects at Ryan Renshaw Gallery (2012), as one of three contributing artists at Redcliffe City Art Gallery's Across The Threshold (2012), and the 2011 and 2013 Exist-ence Festivals. Other noteworthy projects include Shop Pty Ltd a collaboration with the art collective Pty Ltd in the James Street Precinct, Fortitude Valley (2012), and one in five, a public art project on the Goodwill Bridge, Brisbane (2012).
Karike works for Museums & Galleries Queensland as Membership Officer to Public Galleries Queensland and the Australian Museums and Galleries Association Queensland (AMaGAQ), and is a sessional academic at the Queensland University of Technology (Creative Industries) in Brisbane. Karike was the Media and Communications Officer at the Institute of Modern Art (Brisbane) between 2011-2014 and, in addition to her visual arts training, she holds a Master of Commerce Degree from the University of Queensland. Karike worked in the Financial Services industry for PricewaterhouseCoopers and Deutsche Bank for 10 years prior to pursuing a career in the Visual Arts.
Save
Save
Save
Save
Save
Save
Save
Save
Save
Save