#SoBrave: an exhibition of Brave Girls was an exhibition held in late 2018, and the works exhibited are the final creative outcomes of my Doctor of Philosophy (visual arts) degree.
Brave Girl emerged in my practice in 2017 as a consequence of a study of contemporary feminine bravery (beginning in 2015), which became the focus of my PhD research (2016-2019). These works explore what I have theorised as the Feminine Bravery Construct.
Three works form part of this series:
1. Brave Girl: The Martyr (I think I am funny but maybe I just like looking at myself) 2018
2. Brave Girl: The Warrior 2018
3. Brave Girl: The Heroine 2018
My Brave Girl persona is inspired by cosplay and comic strip characters and is clad in mock super-hero/medieval battle costume. She performs as the literal embodiment of what it means to be an empowered brave woman in the neoliberal context except, instead of doing so virtuously, in a way that is acceptable and worthy of well-socialised women, she is absurdly running for no particular 'worthy' reason at all—besides, of course, because it is "brave to be fast!"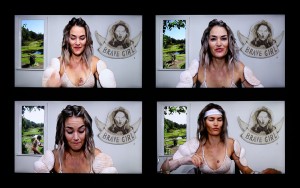 Should you be interested in running fast yourself, Brave Girl has a half-marathon training YouTube Channel which can be viewed here:
You too can be part of the Brave Girl story by purchasing your very own Brave Girl merch at: www.bravegirlmerch.com.
Photos: Andrea Higgins
Videography: Wattle Media